JOCKO MÖLK
JOCKO MÖLK ready to drink Protein Shakes designed and engineered with a protein blend of milk protein concentrate and calcium caseinate. This protein blend helps fuel muscle growth and recovery all day long.
GRASS-FED PROTEIN, NO HORMONES OR SOY. 30 grams of Grass Fed Protein with 180 calories per serving. We've developed the best protein blend with milk protein concentrate and calcium caseinate. Our milk protein concentrate and calcium caseinate comes from happy, grass-fed cows and is soy and hormone-free.
SUGAR FREE. Get your protein shake without the unwanted sugar. Mölk is sweetened with monk fruit and Reb-M. It has no added sugar, no artificial sweeteners or colors and KETO Friendly.
AMINO ACIDS Blended with a plethora of amino acids, the building blocks of protein, these necessary components help your body with building muscle and regulating immune function.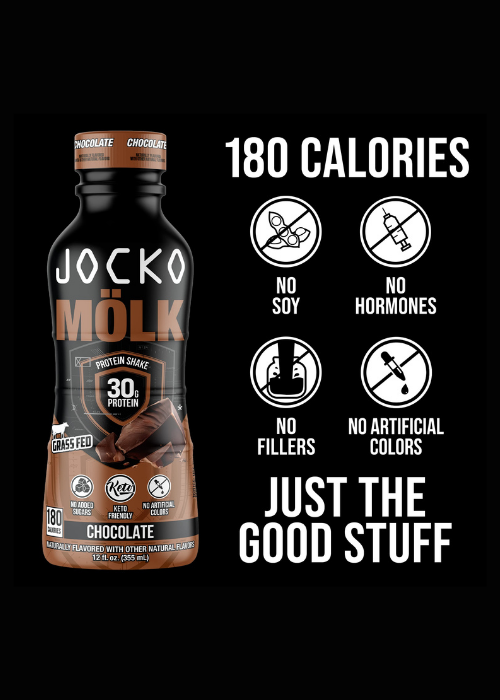 We're LOVING MÖLK!
JOCKO MÖLK has become our everyday go-to when we need protein but can't stop to prepare a proper steak or beef patty.
JOCKO MÖLK is designed to support the machine. Hard work. Clean fuel. No excuses. Fighting a war on weakness.
Discipline your body and free your mind. Crush your tasks.
Delicious & Keto Friendly. No Artificial Sweeteners.
We're stoked to be able offer you 10% with KETOBRAINZ at checkout!
GET JOCKO MOLK!